Metal Cut off Saws
Metal Cut Off Saws SERIES 490
To be used in slow speed Metal Cut Off Machines. Will give a better quality cut than abrasive cutoff machines. Particularly suitable for mild steel tube. DO NOT OVER WEAR CUTTING EDGE. SHARPEN AT 0.2MM WEAR.

305mm (12") Blades to be used in Ryobi TSC 305A or Jepson No 9312 metal cutoff machines. Maximum 1500 RPM speed is critical.

184mm (7 1/4") Blades to be used in Makita 4130. Maximum 4300 RPM.
NOT TO BE USED IN WOOD CUT OFF MACHINES. Saw rpm is critical. Peripheral cutting speed 25m/sec approximately. To achieve this it may be necessary to run a saw several sizes smaller, for example, a 184mm saw in a 235mm machine.
REF.NO.
DIAMETER
NUMBER OF TEETH
KERF
RPM
PRICE
BUY
490.100030 *
100mm (4")
30
1.7mm
4700
NZD$89.93
490.150030 *
150mm (6")
30
2.0mm
3000
NZD$94.66
490.160030 *
160mm (6 1/4")
30
2.0mm
3000
NZD$94.66
490.184048 *
184mm (7 1/4")
48
2.0mm
3000
NZD$120.42
490.200040 *
200mm (8")
40
2.2mm
2400
NZD$154.72
490.235044 *
235mm (9 1/4")
44
2.2mm
2000
NZD$167.48
490.250048 *
250mm (10")
48
2.0mm
1900
NZD$194.77
490.305054 *
305mm (12")
54
2.2mm
1500
NZD$233.06
490.305080 *
305mm (12")
80
2.2mm
1500
NZD$307.21
490.355080 *
355mm (14")
80
2.5mm
1350
NZD$367.95
Colour Steel Fencing
REF.NO.
DIAMETER
NUMBER OF TEETH
KERF
RPM
PRICE
BUY
490.136030 *
136mm (5 3/8")
30
1.7mm
4000
NZD$92.28
490.180070 *
184mm (7 1/4")
70
2.0mm
3000
NZD$136.95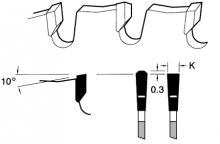 LINBIDE
126 Captain Springs Road
Te Papapa, Auckland
New Zealand
PO Box 12-275, Auckland
Telephone 64-9-636 4121
Facsimile 64-9-636 8851
Email
sales@linbide.co.nz