FUNDAMENTAL GUIDELINES FOR A
SUCCESSFUL DUST EXTRACTION SYSTEM
Keep main and branch lines as large as possible.
Arrange extractor as close as possible to the main source of the dust and chips.
Make your system as simple as possible.
Fit blast gates to all machines.
Bends should be as large a radius as possible.
Take care with material friction and sparks as the fire risk is increased with dust and airflow.
The use of a grounding wire will reduce the possibility of static electricity.
Metal Elbows, Y Junctions and blast gates available on request.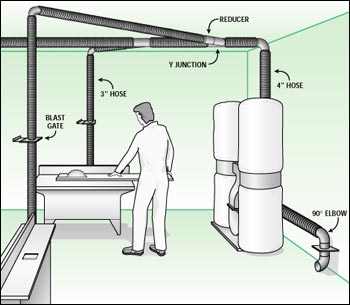 Typical layout of a small workshop
Shop Online
LINBIDE
126 Captain Springs Road
Te Papapa, Auckland
New Zealand
PO Box 12-275, Auckland
Telephone 64-9-636 6862
Facsimile 64-9-636 8851
Email
sales@linbide.co.nz