Triple Chip Positive Rake Veneer and Laminate Saws
Triple Chip Positive Rake SERIES 650, 651
The Series 650 has a triple ground tooth with positive rake is excellent for cutting veneer on thin panels under 25mm thick. NOT SUITABLE FOR CUTTING ALUMINIUM. Fitted with sub-micron tungsten carbide tips.

The Series 651 thin kerf saws are suitable for cutting plastics, perspex and thin panels up to 20mm. Support flanges must be at least half of the saws diameter.
* add bore size to ref no. in mm.
Series 650
REF.NO.
DIAMETER
NUMBER OF TEETH
KERF
PRICE
BUY
650.250080 *
250mm (10")
80
3.2mm
NZD$294.23
650.300096 *
300mm (12")
96
3.2mm
NZD$357.14
650.350108 *
350mm (14")
108
3.5mm
NZD$435.39
650.400120 *
400mm (16")
120
3.5mm
NZD$531.42
Series 651
REF NO.
DIAMETER
NUMBER OF TEETH
KERF
PRICE
BUY
651.250080*
250mm (10")
80
2.4mm
NZD$279.56
651.300096
300mm (12")
96
2.4mm
NZD$339.31
651.350108*
350mm (14")
108
2.4mm
NZD$413.59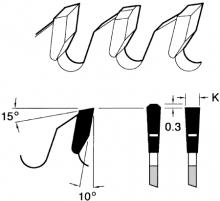 LINBIDE
126 Captain Springs Road
Te Papapa, Auckland
New Zealand
PO Box 12-275, Auckland
Telephone 64-9-636 4121
Facsimile 64-9-636 8851
Email
sales@linbide.co.nz