Clearance Drill with Adjustable Nylon Depth Stop
CLEARANCE DRILL WITH ADJUSTABLE NYLON DEPTH STOP
A precision tool for cabinet making and joinery. Suitable for veneers and laminates.
Adjustment is arranged to increase or reduce the sountersink. The depth stop has a glass fibre bearing with a ball bearing trust.
The depth stop discontinues turning when it touches the surface of the material and will not mark the material.
Clearance Drills with Adjustable Nylon Depth Stop
REF.NO.
SCREW GAUGE
DRILL & SCREW HEAD SIZE
PRICE
BUY
DENC6
6 GAUGE SCREW
3.6 X 7MM
NZD$64.17
DENC8
8 GAUGE SCREW
4.3 X 9MM
NZD$64.17
DENC10
10 GAUGE SCREW
5.1 X 10MM
NZD$64.17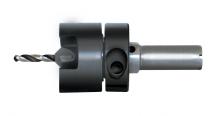 LINBIDE
126 Captain Springs Road
Te Papapa, Auckland
New Zealand
PO Box 12-275, Auckland
Telephone 64-9-636 4121
Facsimile 64-9-636 8851
Email
sales@linbide.co.nz